Project : City of Catania - Sicily, Italy

In Sicily, the region's largest mall ͞Centro Sicilia͟, is characterized by more than 12,000 m² of translucent covering. This single level structure is an excellent example of architectural functionality based on the principles of eco-sustainable design - the most important feature for a center situated in a region where the temperature easily reaches very high levels. The application of the skylights of huge size would have allowed for tremendous internal heat build-up resulting in extraordinary air conditioning costs. The use of the wide polycarbonate sheets with the exclusive IR filters has permitted to solve the problem of internal overheating, making Centro Sicilia unique project. The Polycarbonate IR sheets constitute covering of all common areas of the center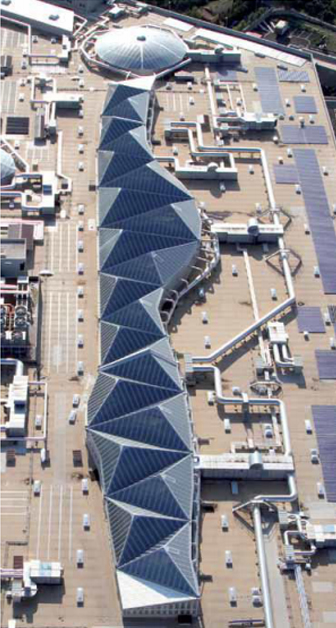 Project : City of Catania - Sicily, Italy
Surface: 12,000 m²y
Product used: Polycarbonate compact sheets Policomp® with IR filters polycarbonate multiwall sheets Policarb® with IR filters
THE PROJECT
The project includes two types of skylights: Cupolas (domed) of various sizes and shapes, faceted like irregular diamonds and triangular-based pyramids of various heights, placed side by side and tilted in space. There were 27 different structures, all with welded joints and each requiring different cut shape stem.
THE SKYLIGHT
Dott.Gallina was chosen to supply the polycarbonate translucent sheets because we were able to meet the needs of the designers with our ͞new͟ generation of product and our high level of service. The PoliCarb®and PoliComp® polycarbonate sheets are installed on different skylights and galleries to maximize translucency and performance with solar radiation controls. With the assistance of dott.Gallina's technical support team, the architects have been able to achieve the following
Greater efficiencies using natural lighting
Improved comfort,
Reduction in costs for artificial lighting,
Reduction in cooling costs (estimated to be near 20%),
Fast and safe installation,
Warranty against water infiltration.