The design team decided for a translucent polycarbonate PoliCarb® as proposed by Gallina USA
The complete system of sheets and aluminium profile indeed conform to stringent USA requirements.
MAIN FEATURES
Light transmission
Light weight
Wind and load resistance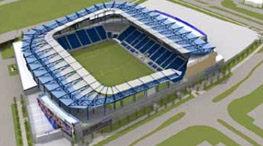 The advantages of having selected Gallinas PoliCarb® sheets are multiple:
Natural light is diffused through the canopy eliminating glare;
The unique profile of PoliCarb® 25 mm sheets affords the possibility to design a light steel structure with outstanding wind and impact resistances;
The canopy design and the flatness of the PoliCarb® sheets amplify crowd noise from the tribunes;
The possibility to produce and install long sheets allowed for the installation and connections between different slopes.
And the final result is
The structure with such span and low slope realized with Policarb sheets manufactured in customized lengths, is definitely a unique solution and it can be considered a turning point in the design of translucent canopies of large dimensions.